Goooooooood day to you lovely people! Or should I say Hej, as this post is about to take a turn towards the Swedish…
For the longest time, I was desperate for a Kanken. Yes, I know, everyone has one. But I just adored them; they looked great, came in so many different colours, were a great size, and they were Swedish- I love all things Swedish! I found myself in Berlin last October, surrounded by people from all over the world carrying these gorgeous bags- it got to the point where my friends who were travelling with me would shout "KANKEN!!" so that I could turn around and gaze dreamily at it. My parents took the hint, and got me one for Christmas last year, so it's been 8 months of Kanken-y fun for me.
I remember the extensive research I did before I got my own, and so I thought that to spare you a lot of googling, I'd cram some serious information into this post.
Firstly, and most importantly, here is the bag itself!
I didn't actually choose the colour- I told my parents I wanted to be surprised, but I love the colour they picked in the end. I wear a lot of blue anyway, so this fits in very well with my wardrobe.
WHERE TO GET YOUR KANKEN
These backpacks are pretty, but pricey. I mean, I loved them, but £65 is a little bit dear for me! I told my parents to buy from ASOS, because at least that way, with my account, they could use my student discount and get 10% off. Yay! (on a sidenote, O how I will miss student discount. Welp!)
Some of my favourite Kanken's on ASOS at the moment are linked here if you want to have a wee look:
http://www.asos.com/fjallraven/fjallraven-classic-kanken-in-green-with-contrast-pink/prd/5783088?clr=greenpink664&cid=15914&pgesize=13&pge=0&totalstyles=13&gridsize=3&gridrow=4&gridcolumn=3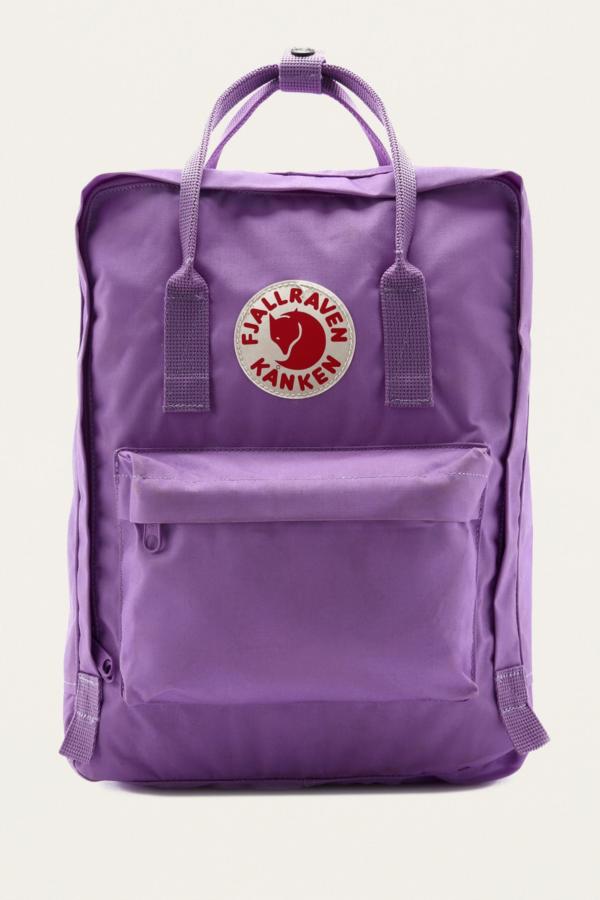 (Image from Urban Outfitters website)
http://www.asos.com/fjallraven/fjallraven-mini-kanken/prd/7731192?clr=orchid&cid=15914&pgesize=13&pge=0&totalstyles=13&gridsize=3&gridrow=1&gridcolumn=2
I have noticed they've put them up in price recently- the standard size is now £75, and the wee baby ones are £65! It is a lot of money, and so you might be thinking to yourself…
IS IT WORTH IT?!
…and to that, I'd say that I certainly think so. It's a lot of money, but when you want good quality, you HAVE to spend a little bit more.
I can't tell you how many bags I bought over the years from Primark which had to be repaired by my daddy, sitting with his wee sewing kit into the small hours. By the time I got my Kanken, I realised I would've saved myself a lot of stress and money if I'd just spent a little bit more at the beginning.
The bag is strong, and can hold a heck of a lot of stuff. It's great as I can put my 13 inch macbook in the little section at the back, plus I can fit in several books, pop some water in one little side pocket, and umbrella in the other, and we're good to go! (As you can tell from the above image, I always fill this bad boy to the brim. There's no such thing as "overpacking", when it comes to my vocabulary!)
I often use this bag as a kind of weekend bag; if I'm heading down to Derry to visit my boyfriend for a few days, I can cram all of my clothes and books and toiletries into it, and I'm ready for action. I have taken recently to using this bag every single day for going to work, and it's fabulous! I do think though, that this would make a great schoolbag, rucksack for walking, or even carry-on when flying.
I got a Cambridge Satchel last year; it came on many adventures with me across the world. I hope me and my wee Kanken will venture beyond the emerald isle in the not-too-distant future.
What about you guys- do any of you agree, and own a rucksack that you love? Please let me know if you have any questions!!
A bientôt,
Amber xx